One of the most popular ways to preserve memories of visits to America's national parks is through the Passport To Your National Parks® – sold in national park bookstores across the United States. Since its inception in 1986, the program has introduced millions of visitors to the national park system. Our trademarked, best-selling program consists of a guidebook, an annual series of commemorative stamps, a companion app, and collectible cancellations. Collect the famous ink cancellations at nearly every park in the system while experiencing America's cultural, historical, and natural treasures.
To view a Master List of Passport cancellations, please click here.
The Passport To Your National Parks® Digital Companion Mobile Application is now available, free at the Google Play Store for Android-powered devices and at the iTunes Store for iPhones and iPads.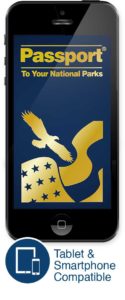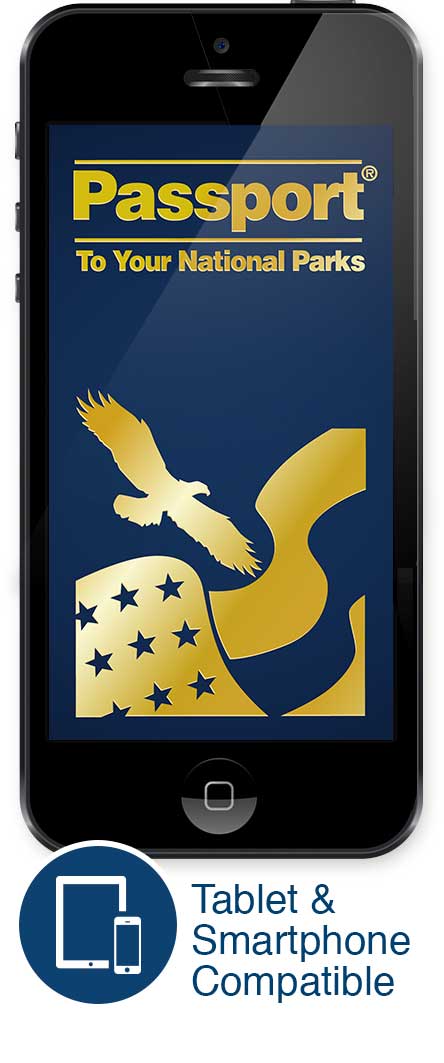 To read the Passport To Your National Parks – Companion App® Terms of Use and Privacy Policy, Click Here
There are several Passport publications available, including:
Passport To Your National Parks®: This handy, spiral bound, 6" x 3" travelogue fits conveniently into a pocket or backpack for easy reference. The 104-page guidebook makes it easy to learn about and explore all of our national park sites. The Passport To Your National Parks includes maps that are color-coded for specific regions in the country, pre-visit information, illustrations, and photographs. It also includes a free map and guide to the national park system.
Passport To Your National Parks® Collector's Edition: Beauty and practicality meet artfully in this deluxe version of the popular Passport, taking you above and beyond the original by providing space for Passport stickers and cancellation stamps for over 400 parks, as well as space for extra cancellations. The park sites are color-coded by region, each area featuring a color map that pinpoints park locations. With a spiral binding that makes it easy to lie open flat, a hard cover that ensures durability and longer life, and pages graced with beautiful color photographs, it's the ultimate stamping ground.
Passport To Your National Parks® Explorer Edition: The Explorer Edition features a sturdy weatherproof portfolio with a durable inside binder, several pockets for your national park collectibles and personal items, and an attachable, adjustable strap so it's easy to carry. It also comes with a map of the United States, which displays the national parks and their locations. The inside pages are bigger and better than ever, and they're expandable, letting you add or rearrange pages any way you like.
Kids' Passport To Your National Parks® Companion: The Kids' Passport To Your National Parks Companion is the perfect way to enhance your kids' experiences in our national parks! This 100-page book is to be used with the original Passport® To Your National Parks. It contains checklists of many of the national parks in the country, a place to list the Junior Ranger programs your child completes, a field journal, and much more! Your kids can keep track of the memories they make while visiting our national parks!
Passport To Your National Parks® Annual Stamps: Make your Passport To Your National Parks® book complete by including the annual commemorative stamp series. Each series includes nine regional stamps and one national stamp on one sheet. Simply detach the stamps and place them in the designated areas in your book.