Eastern National has three e-commerce sites that sell national park products primarily throughout the United Sates, with a growing presence in Canada and Europe. With a client base of more than 25,000 and an online catalog of over 3,000 products our online stores are the "go to" websites for park lovers, the National Park Service, and park partners.
Our warehouse team provides 5-star customer service and efficient order processing. Our customers can reach us toll free, 877-628-7275 or contact us via email Customer Care.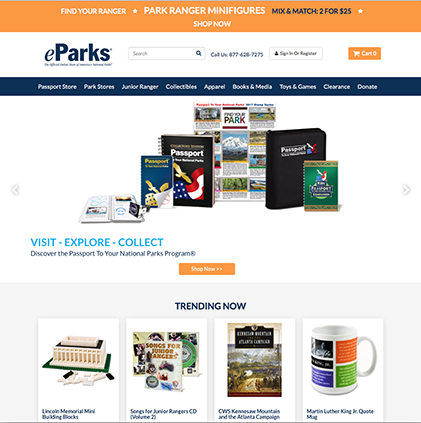 www.eParks.com connects people with America's national parks. The online store of America's National Parks is home to the Passport To Your National Parks® and products from over 400 parks.
Shop for collectibles, apparel, books and more. Our brick and mortar stores have an online park store to help you plan your park visit or buy a treasure to remember your visit.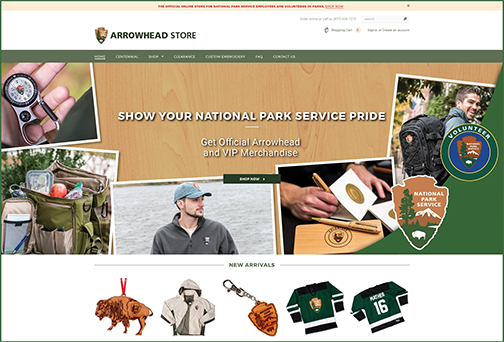 www.arrowheadstore.com offers merchandise bearing the arrowhead symbol or the VIP insignia to National Park Service employees and alumni, Volunteers-in-Parks, and select partners who help us protect park resources and serve the public.
Eastern National collaborates with the National Park Service to make available for sale high-quality products to promote esprit de corps among NPS employees and volunteers.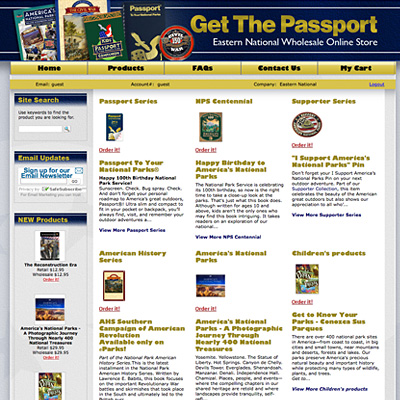 www.getthepassport.com offers associations and wholesale customers an opportunity to purchase Passport To Your National Park® products and Eastern National publications for their retail locations.
To become a wholesale partner, please contact Warehouse Manager, Stephen Drain. All eCommerce orders are processed and shipped from our Hatboro, PA warehouse.