Since our founding, Eastern National has provided more than $142 million through donations to support the educational, recreational, and cultural experience of visitors to our national parks.  See below for several examples of these funds at work.  For more information, please see our Annual Reports.
Eastern National Donations Help Fund Cape Cod National Seashore Concert
Visitors at Cape Cod National Seashore were treated to a free concert highlighting the theme "Sanctuary."
On August 25, 2017, Cape Cod National Seashore hosted a live performance by the Cape Symphony, a community chorus of over 100 members, and additional guest musicians and presenters. The event was co-presented by the Lower Cape Outreach Council, and major funding was provided through Eastern National donations as well as support from the Friends of Cape Cod National Seashore.
Approximately 1,500 visitors gathered in the newly reopened Salt Pond Amphitheater to enjoy the concert, which was themed "Sanctuary" in celebration of Cape Cod National Seashore as a place of sanctuary for people and other living things. A musical piece entitled Sanctuary, which was originally commissioned for the NPS Centennial, was reprised. The program also highlighted park history, whales, art and inspiration, and the Wampanoag culture.
---
Eastern National Helps Big South Fork Visitors "Go Big" in 2017
Explorers of all abilities and ages are hitting the trails to complete the challenge.
Visitors to Tennessee's Big South Fork National River and Recreation Area have taken the "Find Your Park" campaign to heart with the 2017 Go Big Challenge.  Go Big participants commit to hiking, biking, riding, and paddling at least 100 miles throughout Big South Fork while completing trivia challenges along the way. Designed to include visitors of all ages and physical abilities, the Go Big Challenge activity booklet contains a variety of physical and educational challenges that cover a wide range of skill level. Upon completion of the Go Big Challenge, participants receive commemorative patches that were funded with the Eastern National grant.
The Potter family, of Jamestown, TN, has been participating this year:
"My husband, kids, family and I were so excited when we got the news of the GO BIG Challenge at Big South Fork.  It has opened up so many doors for us to explore new areas of the park that we had never seen before by hiking new trails and seeing new rock houses, structures, and waterfalls. This challenge has brought us together as a family exploring the outdoors. Just recently we completed the part of the challenge at Blue Heron where we visited Cracks-in-the-Rocks, and it was amazing!  Learning the history in the cemeteries has also been neat for us as we learn about the people that settled the area. 
We have enjoyed every bit of this challenge and we are very thankful for this year long activity for us in our area. In fact, my extended family has enjoyed parts of this challenge as well! My mom and stepdad do every challenge with us and they are ages 60 and 72. My brother and his kids come all the way from Eastern Tennessee to participate in parts of the challenge. It is a great reason to get out into the woods and explore more regularly!"   – Crysti Potter, Jamestown, TN
Big South Fork National River and Recreation Area and Eastern National are sponsoring the challenge through December – swing by a Visitor's Center for more information or to participate in this year's challenge.
---
Eastern National Sponsors 2017 Cane River Find Your Park Festival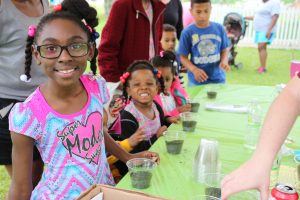 More than 350 participants enjoyed the inaugural celebration.
In a dual celebration of National Park Week and the rich heritage of the Cane River region of Louisiana, Eastern National joined forces with Cane River Creole National Historical Park to present the first ever Cane River Find Your Park Festival on Saturday, April 22 at the Oakland Plantation.  The $10,000 grant from Eastern National was provided in support of Cane River Creole National Historical Park's mission to enhance visitors' understanding about the people and traditions of the area.
Families in attendance enjoyed myriad demonstrations of traditional Creole activities and cultural touchstones, such as making meat pies and learning about bee keeping, as well as an opportunity to visit a petting zoo. A genealogy station was also available to festival-goers who were interested in learning more about their personal connections to the region.
---
Eastern National Presents Grand Prize to Student Filmmaker at Tribeca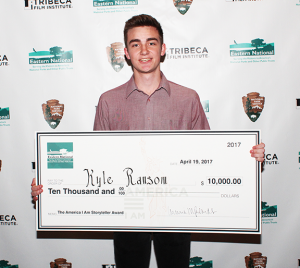 Second Annual America I Am Film Competition Hosted at Statue of Liberty-Ellis Island
Eastern National has partnered with the National Park Service and the Tribeca Film Institute® to present the America I Am competition grand prize to an aspiring high school film maker. This year's winner, Kyle Ransom of Provo, Utah, was chosen by the jury to receive the $10,000 Storyteller's Award in recognition of his documentaryNew Frontier.
The America I Am competition was designed to encourage young film makers to consider the American experience in their five minute films, with a special emphasis on understanding America's shared history and culture. Corinna Richards, Eastern National's Metro New York Regional Manager, presented the $10,000 grand prize to Mr. Ransom in a ceremony at Ellis Island's Great Hall on April 19. Contest finalists were also invited to tour the Statue of Liberty and Ellis Island as well as participate in master classes taught by film industry professionals. Winning films are available at http://www.theamericaiam.org.
---
Eastern National 2016 Initiatives
Centennial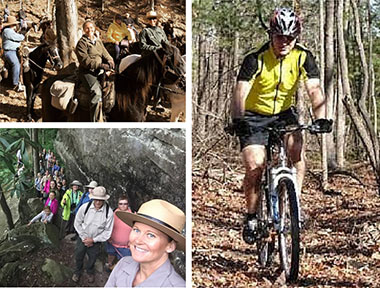 Big South Fork NRRA and Eastern National Encourage "100 Miles for 100 Years"
In honor of the National Park Service's Centennial, Big South Fork NRRA and Eastern National asked visitors to hike, ride, and paddle at least 100 miles in 2016.
Visitors to Big South Fork National River and Recreation Area celebrated the National Park Service's 100th year in a big way. In partnership with Eastern National, Big South Fork NRRA in Tennessee encouraged visitors to get to know the park better over the course of the year by completing the Centennial Challenge: 100 Miles for 100 Years. Participants in the year-long, self-paced initiative logged their mileage diligently during the year, sharing photos and tracking their adventures on at least 100 miles of the multi-system trails offered by the park. Upon completion visitors received special edition Big South Fork NRRA Centennial Challenge patches which were partially funded by Eastern National's $1,725 grant.
In the spirit of connecting with a new generation of park supporters, visitors, and advocates, Big South Fork NRRA conducted outreach to many community organizations to promote the Centennial Challenge and park visitation. Educational materials were provided to scouting groups, high school JROTC programs, and even local hospitals to encourage participation and completion of the challenge.
---
Call to Action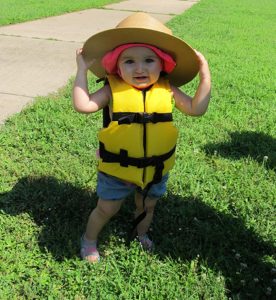 Eastern National Funds Promote Safer Swimming at Buffalo National River
200 lifejackets were provided for the park's 800,000+ annual visitors
Swimming in the Buffalo National River is like nothing you've ever experienced.  The powerful waterway is a peaceful retreat during the summer season, but river swimming presents challenges that some visitors may not have encountered in other bodies of water, such as fast moving currents and slippery, uneven spots along the river bottom.
In 2016, Eastern National provided Buffalo National River $10,000 for a new program that offers swimmers in the park complimentary access to lifejackets for a day or weekend. Two hundred personal floatation devices in adult and child sizes were purchased and placed at newly constructed loaner stations at some of the most popular swimming points along the river, granting the park's 800,000+ annual visitors opportunities to borrow life vests and learn about the importance of appropriate water safety gear, especially for children.
---
Every Kid in a Park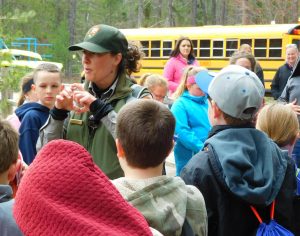 Pictured Rocks National Lakeshore Increases Fourth Grade Park Access with Eastern National Funds
Picture this! Michigan educators will now be able to share park programming with students across the state regardless of location or budget.
A $10,000 grant from Eastern National has enabled the development of a comprehensive fourth grade curriculum guide that features lessons and programming that can be used by Michigan educators regardless of their location or proximity to a park. Past park-centric lesson plans have largely focused on programming that takes place before, during, or after park visits by school children. Pictured Rocks National Lakeshore and the Clear Lake Education Center continue this commitment to serving Michigan's fourth graders, but have augmented the traditional curriculum design with activities and lessons that allow for more budget and scheduling flexibility. In addition to field trip lessons and guides, the Michigan Academic Standards-compliant curriculum offers activities for educators to implement in indoor and outdoor settings. Lessons are currently being piloted and revised as necessary, and we look forward to their online publication once content is finalized in October 2017.
---
Eastern National Donation Highlights
Pea Ridge National Military Park used donation funds to purchase a coat that was worn by a Union soldier at the Civil War Battle of Pea Ridge in 1862. The coat is now on display at the park.
Eastern National donation funds were used to produce a new park film at Kennesaw Mountain National Battlefield Park entitled, Kennesaw: One Last Mountain.
Coal-making demonstrations were made possible by Eastern National's donations at Hopewell Furnace National Historic Site. Also, Eastern National published The African American Experience at Hopewell Furnace, written by NPS staff. The book takes an in-depth look at life for African Americans at Hopewell during the 18th and 19th centuries.
Park newspapers and brochures were produced using Eastern National's donation funds at Cape Cod National Seashore, Apostle Islands National Lakeshore, Wilson's Creek National Battlefield, and Delaware Water Gap National Recreation Area.
Visitors to Fort Macon State Park can now view four antique military firearms and bayonets that were purchased using Eastern National donation funds.
A number of special events were sponsored by Eastern National's donation funds, including: Children's Archaeology Day at Effigy Mounds National Monument; Labor Day Concert and Festivities at Cumberland Gap National Historical Park; Sagamore Hill Day at Sagamore Hill National Historic Site; Beach Sweep at Fort Sumter National Monument; 150th Anniversary of the Battle of Arkansas Post Event at Arkansas Post National Memorial; Open House Event at Lowell National Historical Park; Vicksburg Heritage Fair and several other events at Vicksburg National Military Park; Junior Ranger Day at Jimmy Carter National Historic Site; 75th Anniversary Event at Natchez Trace Parkway, and many more.
Eastern National provided funding for Volunteer Appreciation Events at several parks, including: Wilson's Creek National Battlefield, Tuskegee Airmen National Historic Site; Carl Sandburg Home National Historic Site; Weir Farm National Historic Site; and Jean Lafitte National Historical Park and Preserve.
Training sessions and seminars were sponsored by Eastern National's donations at Wilson's Creek National Battlefield, Weir Farm National Historic Site, Sleeping Bear Dunes National Lakeshore, and Appomattox Court House National Historical Park.