Eastern National: Your Partner for Park Philanthropy
For 70 years, Eastern National has diligently supported national parks and other public lands through a variety of methods, each specifically designed to provide parks with valuable resources that enhance visitor experiences. We are pleased to invite you to join us in fulfilling this mission through our current philanthropic partnerships with Outer Banks sites: Cape Hatteras NS, Fort Raleigh NHS, and Wright Brothers NM, as well as Women's Rights NHP.
---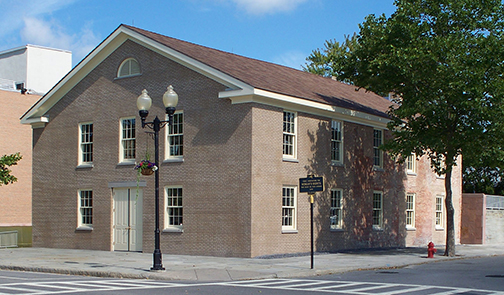 The Campaign for Wesleyan Chapel
Inspiring the Next Generation of Equal Rights Champions
"Now, in view of this entire disfranchisement of one-half the people of this country, their social and religious degradation,—in view of the unjust laws above mentioned, and because women do feel themselves aggrieved, oppressed, and fraudulently deprived of their most sacred rights, we insist that they have immediate admission to all the rights and privileges which belong to them as citizens of these United States." (Declaration of Sentiments, 1848)
On the morning of July 19, 1848 at approximately 11 o'clock, Elizabeth Cady Stanton stood in front of the First Women's Rights Convention in Wesleyan Chapel and read these words to the assembled delegates. For many years the chapel had served as the backdrop for political rallies and causes, including the anti-slavery efforts that had helped inspire the movement for women's suffrage.
Help preserve and share this pivotal moment in American history by making a fully tax-deductible gift in support of the new Wesleyan Chapel interpretive exhibit. Your donation directly benefits the development, installation, and stewardship of the new exhibit, which will be housed within the hallowed halls of the historic chapel in Seneca Falls, New York.
---
Honor an equal rights crusader in your own life with a tribute gift.    
Tax-deductible gifts can be made at the following levels:     
$100 = New York Suffrage Centennial Level
$50 = Elizabeth Cady Stanton Level
$25 = Lucretia Mott Level
$10 = Frederick Douglass Level
The message of equality is passed down from generation to generation, spread through communities by relatives, friends, and teachers. Recognize a personal hero by making a tax-deductible donation in their honor to ensure a bright future for all Americans through the power of education.
When you make a tribute gift to the Campaign for Wesleyan Chapel, the honoree or the family of the honoree will be notified of your generosity with a special postcard featuring exhibit themes and imagery.
Contributions in honor or memory of an individual can be made via the online eParks portal. If you are making a gift in honor or memory of an individual, please email philanthropy@easternnational.org for instructions about requesting a postcard for the honoree or their family.
---
To make a donation over the phone or in a larger amount, please contact Karen Wernick at 267-464-7151.
Tax-deductible gifts in any amount can be made by mailing a check made out to Eastern National at the following address:
The Campaign for Wesleyan Chapel
c/o Eastern National
470 Maryland Drive, Suite 100
Fort Washington, PA 19034