Since our founding in 1947, we have provided over $156 million in direct and in-kind aid to parks. For more information, visit America's National Parks™.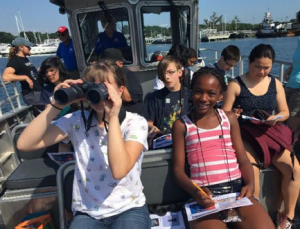 A $2,500 grant from Eastern National was awarded to Salem Maritime National Historic Site to help fund environmental education programs for culturally and economically diverse students from the local area. The programs were enjoyed by 110 youths aged 10-16, encouraging lifelong connections to parks and thoughtful consideration of parks as conduits for natural resource conservation.
A highlight of the program for middle school students from Salem was a boat trip to Baker Island aboard the Naumkeag with Essex Heritage. On the island, students learned about shipwrecks, island history, and light stations through role playing and other interactive activities.
High school students were afforded the rare opportunity to head out on Sea Shuttle's Endeavor, where they learned about coastal and marine ecology. On one trip students learned how to use underwater cameras and examined organisms from the sea bottom – one student even discovered a female lobster with eggs! Another trip, focused on oceanography, challenged students to use critical thinking to address some of the larger problems facing the Salem Sound, including invasive species, climate change, sea level rise, and storm water runoff.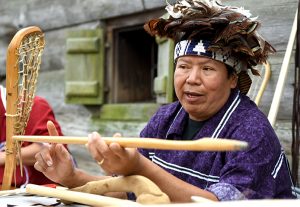 A $9,850 grant from Eastern National allowed Fort Stanwix National Monument to host a summer-long Oneida Art and History series. The Oneida Nation played a strong role in the history of the American Revolution and Fort Stanwix, serving as the first allies of the brand new United States and assisting in battle with the British. The Oneida Art and History series honored the Oneida Nation's culture and helped visitors understand the role that they played in the country's early years.
More than 1,800 visitors to Fort Stanwix and the jointly managed Oriskany Battlefield State History Site experienced living history, cultural demonstrations, and more as part of the Art and History series. A highlight from the series was a demonstration with Oneida Heritage staff member Ron Patterson, a world-renowned lacrosse stick maker. In addition to sharing techniques for making the equipment, he told traditional Oneida stories related to the ancient game and explained how lacrosse prepared young warriors for battle.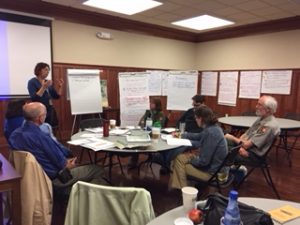 In 2017 the Blue Ridge Parkway received a $10,000 grant from Eastern National to help complete a Long Range Interpretive Plan for the Moses H. Cone Memorial Park, which will guide the development of interpretive services and materials in the coming years. Combined with $5,000 from the park's Eastern National annual donation account, the grant allowed the park to host a three day workshop facilitated by a specialist from the National Park Service's Harpers Ferry Media Center in March. The workshop was attended by an interdisciplinary team of park and partner staff.
The completed Long Range Interpretive Plan is particularly important as the National Park Service prepares to expand the interpretive space in the Cone estate's Flat Top Manor from 340 square feet to more than 2,000 square feet. The Moses H. Cone Memorial Park on the Blue Ridge Parkway provides a unique blend of natural, historical and cultural experiences to more than 70,000 visitors a year.